Keller Williams Realty Key Partners, LLC
4200 Somerset Dr, Suite 101, Prairie Village, KS 66208
David Conderman, Operating Principal
(913) 825-1111 |
[email protected]
---
Please contact David Conderman at

[email protected]

or 913-825-1111 if you are interested in pursuing this opportunity.

---
I am looking for a person who is looking for an opportunity, not a job! This individual should be self-motivated, embrace risk and have a high sense of urgency with a big picture focus.
LEADER
- This person is a top producer and has a track record of leadership, pursuing leadership roles and taking charge. They are assertive, decisive and have risen to the top of leadership positions in every area of their business, career and personal life. They are dynamic, action and results oriented and drive business growth. They are a highly assertive, passionate, people-oriented individual who operates with high urgency. They thrive in a fast-paced environment with change and diversity. They operate at a "big picture" level so as not to get bogged down in details.
CHARISMATIC
- They have strong communication skills and naturally connect with others. When people who know them describe them, they say that they are friendly, well liked and point to their energy and passion as their most dominant characteristics. They possess a strong desire to lead and the innate ability to persuade and influence others. They proactively handle challenging people and situations. They easily form and maintain strong relationships and networks.
TEAM
– They demonstrate a strong sense of urgency and responsiveness to others. They are optimistic, a natural leader who embraces succeeding through others and building a team with bottom-up leadership. They possess a track record of strong relationships and draw energy from building through others. They are learning based and use learning as a foundation for their business.
SUCCESSFUL
- They are competitive, driven and have at least 2-3 years of business building or sales experience and are in the top 5% of their field. They have extremely high goals and are looking for a vehicle to achieve those goals. While they utilize the team concept, they also act independently and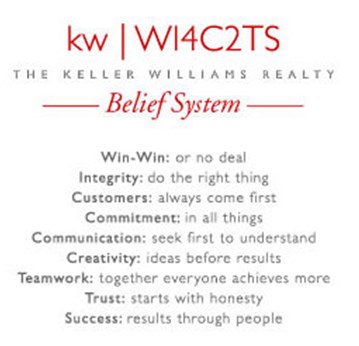 expect freedom to do so; relying primarily on their own opinions and capabilities. They readily adapt to changing circumstances and help initiate changes as appropriate. They understand basic financial reporting (e.g., P&Ls) and how to use that information to make the right business decisions.
ETHICAL
- They naturally exhibit the characteristics found in our "kw | WI4C2TS" belief system in their dealings with our agents, staff, customers and clients.
I am looking for someone who will have a burning desire to build the dominant real estate company in Kansas City by positively impacting the lives of the people they encounter along the way.
About the Keller Williams Realty Key Partners, LLC (KWKey) Team Leader Opportunity

Keller Williams Realty Key Partners, LLC was founded in March 2004 in Prairie Village, Kansas.
The Team Leader at KWKey is the CEO and President of one of the Top 5 Real Estate Companies in Kansas City. They lead an extremely successful group of 150 agents who have produced over 1,200 transactions and $300,000,000 in Sales Production in the last 12 months.
The Team Leader manages and directs a talented staff of 7 which includes a Market Center Administration (MCA), Productivity Coach/Broker (PC), Director of First Impressions (DFI), Transaction Coordinator (TC), Compliance Director (CD) and Weekend Director of First Impressions (WDFI).
Our Productivity Coach/Broker is in charge of our extremely successful new Agent Program. The Productivity Coach/Broker is a valuable partner to the Team Leader and handles the recruiting of all new agents to the business, training them and handling all Broker responsibilities for the entire Company.
The Market Center Administrator is an experienced manager of both our staff and our Chief Financial Officer. She is an incredible Leader who is in charge of our retention program while protecting our Profit.
The Team Leader's main purposes is to coach, train and consult our current agents while using those same skills to grow our Company with productive agents from our market area.
The Team Leader is supported by the Agent Services Coordinator (ASC) who handles all orientations and new agent acclimation. The Agent Services Coordinator assists the Team Leader in all recruiting efforts.
New agent orientations are also supported by our Market Center Tech Coordinator (MCTech). Our Company is at the cutting edge of Technology and pools it's resources to provide our agents with extra benefits rarely seen in a Real Estate Company. Key Partner Agents receive a Microsoft Office 365 25GB hosted exchange email account, personalized domain name, multiple websites, Contactually (CRM), AgentMarketing.com single property websites and virtual tours, Arch Telecom 800# sign rider program and access to our every agent iPad Program. Constant Tech Training and state of the art facilities are imperative in our mission to equip our agents to be successful.
The Team Leader is also supported by a fantastic Investor Group. Each of the Market Center Investors are influential agents in the office and are Rainmakers of a Mega Agent Team. They understand that supporting the Team Leader has a direct correlation on Growth and Productivity for our agents and the Company.
Keller Williams Realty Key Partners, LLC is in the perfect position to be led by a talented individual who is ready to take their career and our Company to the next level!
Job Standards
1.
Primary Objectives
– What are the major objectives or outcomes to be accomplished by the person in this job?
• Recruit, retain, coach, consult and train productive sales associates
• Develop careers of associates to build profitable business and maximize their potential
• Lead the Market Center agents and staff
• Attain dominate market share in our market area
• Build Market Center profitability to the Top 10% in Keller Williams
• Create and Implement the shared vision of the Team Leader and Operating Principal

2.
Regular Work Activities
– What are the most frequent and most essential work activities in this job?
• Recruit sales associates – weekly (Interview, select, hire)
• Coach, Consult and Train experienced sales associates in key areas of business
• Facilitate and Lead sales and business meetings
• Research competition and develop business prospecting and marketing strategies to successfully compete and grow in our market place
• Manage staff to acceptable professionalism and job performance
• Conduct performance reviews of staff and associates through Coaching and Consulting

3.
Management Responsibilities
– How many people and which roles will be directly managed by this person?
• Staff (Administrative staff through the leadership of the Market Center Administrator)
• Sales associates (150–200 people)

4.
Key Skills
– What behavioral traits, attitudes, and skills are required?
• Career development, coaching, consulting and training skills
• Extraordinary people skills
• Leadership, management, team-building skills
• Goal setting, planning, accountability skills
• Problem-solving skills
• Proactive, positive attitude
• Above-average recruiting skills

5.
People Contacts and Interactions
– What are the primary people contacts in this job (who, why, and how often)?
• Sales Associates – Set goals, plans, coach, consult, train and develop careers – daily
• Prospective Sales Associates – To join company – daily
• Staff – To set goals, plans, get support and work on projects and tasks – weekly
• Owner – Set Company goals, plans and monitor progress – weekly and monthly

6.
Compensation
–Base Salary, Health Insurance, Huge Performance-based Bonuses, Profit Share, and other Employee Benefits.
---
Please contact David Conderman at

[email protected]

or 913-825-1111 if you are interested in pursuing this opportunity.

---